Cybersecurity
for critical infrastructure
The IT Security Act 2.0 calls for numerous changes and requirements for CRITIS operators and companies in the special public interest. Particular emphasis is placed on the use of attack detection systems in accordance with Section 8a (1a) BSIG. This will be mandatory as of May 01, 2023.
Find out here how to implement the BSI recommendations simply and sustainably.
For IT decision-makers in KRITIS enterprises
BSI recommendations
simply implement
Cyber attacks are (unfortunately) part of everyday IT life today. The question is no longer if, but when an attack will occur. The attack scenarios are diverse and constantly present IT managers with new challenges. Because one thing is clear: attacks must be (automatically) defended against; the consequences of a successful cyberattack could be fatal, especially if critical infrastructures are affected.
What is the "BSI Orientation Guide"?
The BSI Guidance is a comprehensive document from the BSI. It outlines mandatory requirements for the use of attack detection systems (SzA) and divides these into three phases: LOGGING, DETECTION, and RESPONSE. The measures described therein are divided into SHOULD, MUST, and CAN requirements, and are also prioritized into three levels, depending on the desired "maturity level."
In the first step, achieving maturity level 3 is sufficient. Operators of critical infrastructures should aim for level 4 in the long term. Therefore, there is a continuous improvement of IT security measures, which is absolutely sensible and necessary given the aspect of the constantly increasing and more complex threat landscape.
BSI-KRITIS-Regulation (BSI-KritisV) and German IT Security Act 2.0 (IT-SiG 2.0) therefore require "appropriate organizational and technical precautions". From May 2023, operators of critical infrastructures will be obliged to use systems for attack detection, among other things. Which systems are suitable for this purpose remains an open question. It is not uncommon for those affected to be unsure which systems are really suitable and needed. SIEM systems are the first systems that come to mind. But, contrary to what many expect, they are not without alternative!
Enginsight Matrix for BSI Guidance
Find out at a glance how Enginsight supports you in implementing the BSI Guidance according to § 8a Paragraph 3 BSIG.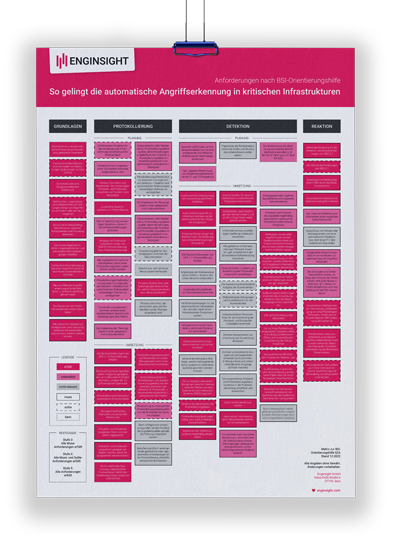 Implementation of the BSI orientation guide
Automated systems
for attack detection and defense
When it comes to securing your IT infrastructure and complying with the legal requirements for critical infrastructures, we support you from planning to implementation. In this way, you achieve at least maturity level 3, demonstrate cyber resilience and secure your "Digital Compliance".
Below is a small excerpt of which requirements from the "BSI orientation guide for the use of attack detection systems" you can fulfill with Enginsight and the appropriate service providers. The Enginsight matrix for the BSI orientation guide provides you with a complete overview.
Enginsight matrix for BSI orientation guide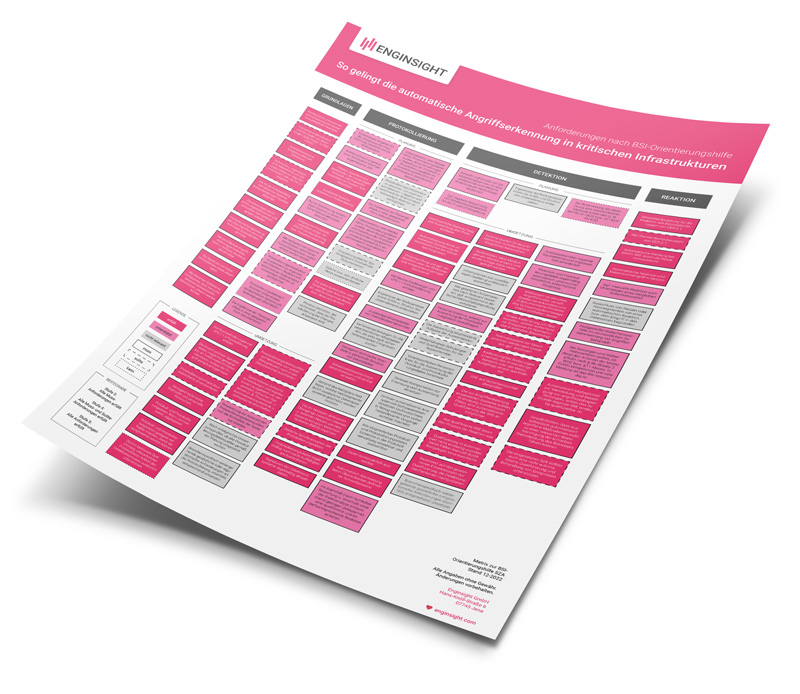 Status quo
How well are you positioned so far?
If your company is KRITIS-regulated and you are still unsure whether your measures are sufficient: Take an inventory. An analysis of your IT infrastructure creates transparency. Once the deviations between the actual and target state have been determined, you can initiate the necessary measures in a prioritized manner.
With Enginsight, the inventory of your IT assets succeeds at the push of a button.
We will be happy to show you live how quickly this can be done. Contact us.
In the long term and sustainably, Enginsight helps you with the live monitoring of your IT infrastructure. We would be happy to tell you more about this in a live demo or one of our webcasts.
FAQ on KRITIS requirements