The cybersecurity platform for attack and defense
Enginsight is the 100% self-developed IT security software made in Germany to protect your company from cyber attacks and simulate attacks.
Used by companies that care about their IT security
Built to serve your IT with security
Never before has it been so easy to monitor and protect entire IT infrastructures from cyber-attacks, regardless of platform. Enginsight is based on the newest technologies and offers a maximum of automation. This ensures sustainable IT hygiene in everyday life, so that your systems always meet the latest technological and legal requirements.
Enginsight brings together what belongs together.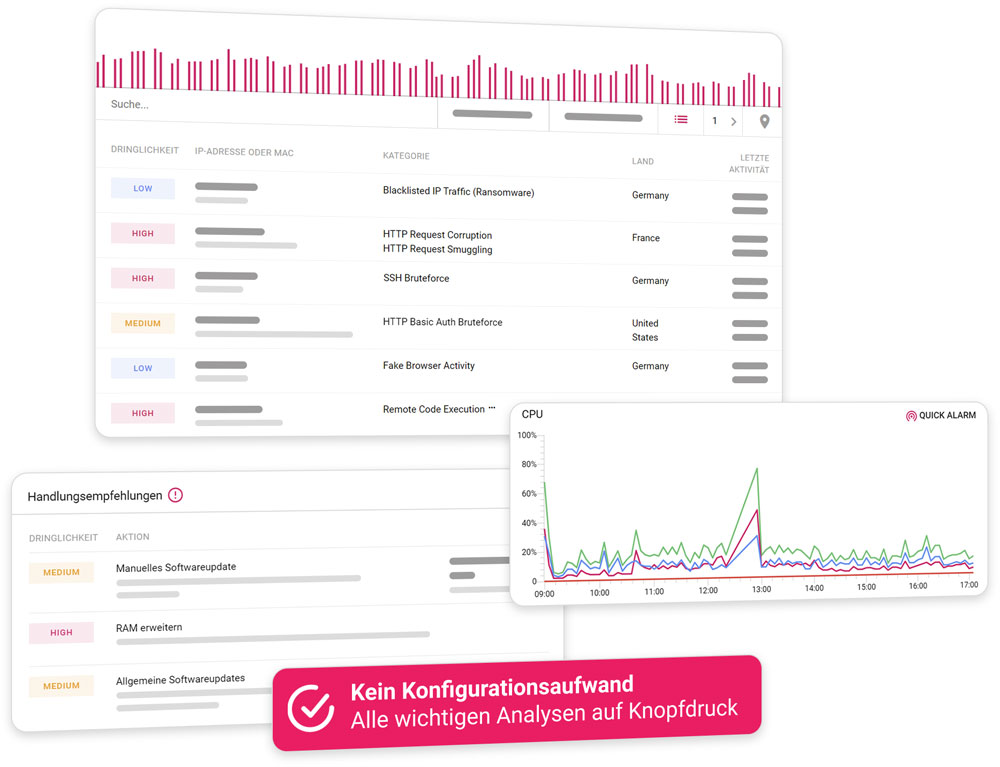 IT Security

for servers and clients
Enginsight provides a comprehensive solution for monitoring and securing your servers and clients. Detect security vulnerabilities caused by outdated software or faulty configurations and close them directly from the platform. The proactive options are supported by intelligent detection of attacks and anomalies.
Enginsight gives your staff the insight and tools they need to take the security of your organization's servers and clients to the next level.
Monitoring

for web applications
Web applications, such as websites, are monitored by Enginsight for availability and security. Websites, Enginsight monitors their availability and security. Determine the certificates, protocols and software used with just a few clicks and receive an immediate assessment of the security level. Specifically, you will learn which attack vectors are possible and how you can protect yourself against them.
Do not leave any loopholes in your web applications unnoticed and protect yourself, your data and the visitors of your website from cyber criminals.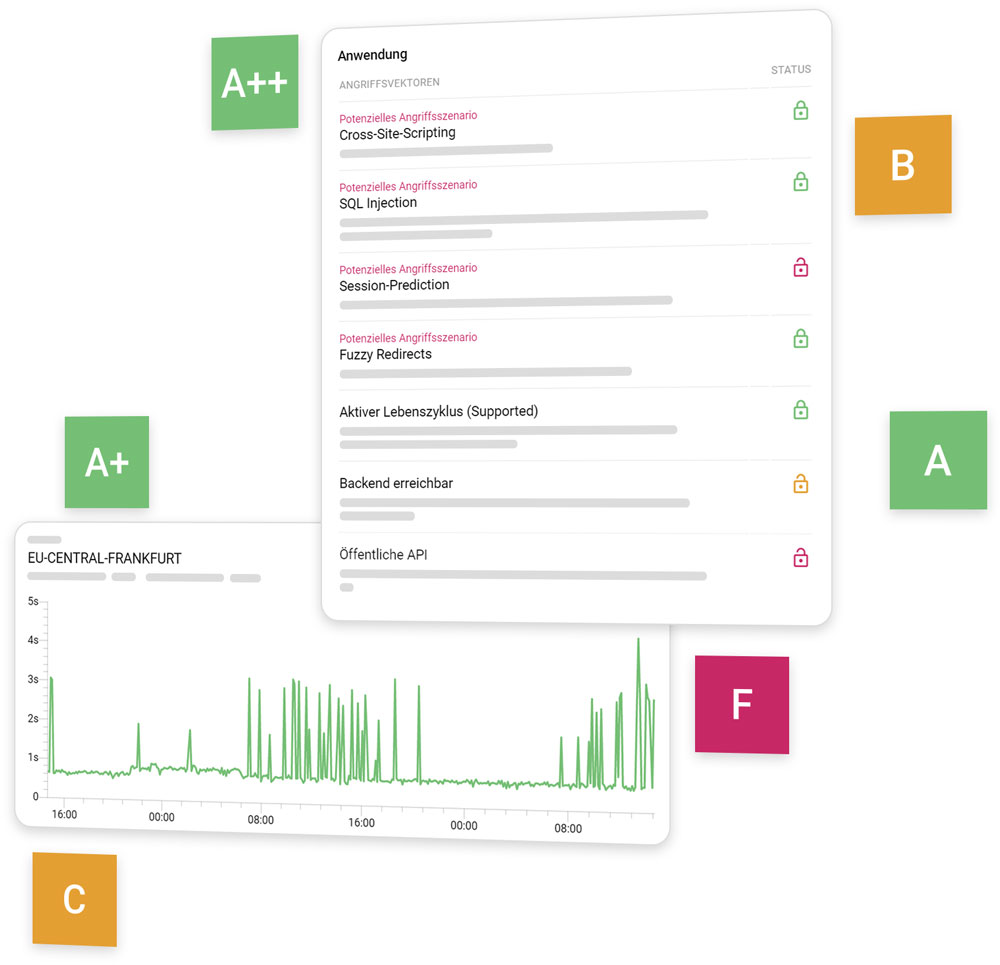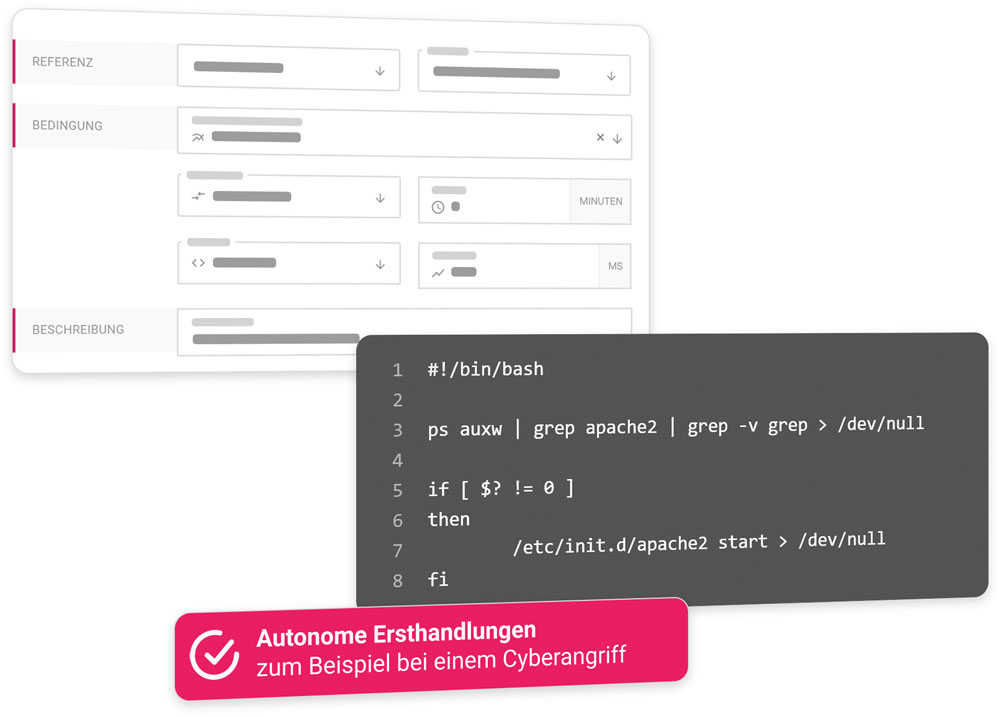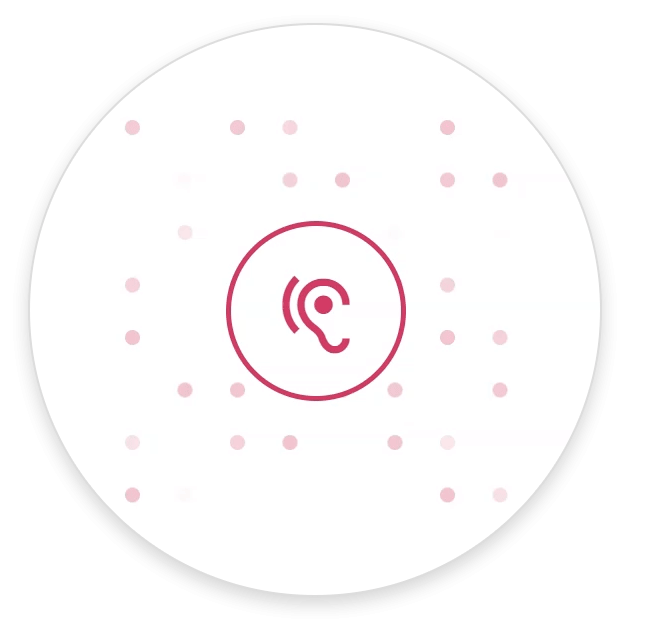 Automation

of your IT process
The increase in networked devices and growing complexity combined with a shortage of personnel calls for automation and autonomously acting solutions. That's why Enginsight offers you the possibility to react automatically to system events or to have routine tasks executed autonomously on a regular basis.
Take advantage of our wide range of automation options and give your IT department more room to breathe and time for exciting projects.
Automated Penetration Testing
IT infrastructures are dynamic entities that are subject to constant change. However, changes and new devices can also lead to new security gaps. You should therefore subject your IT infrastructure to a stress test at regular intervals. With Enginsight's automated pentest, you can test whether your systems can withstand a hacker attack and where possible gateways can be found.
Receive from Enginsight a clear evaluation of the security gaps in your IT. You can start the automatic pentest at the push of a button.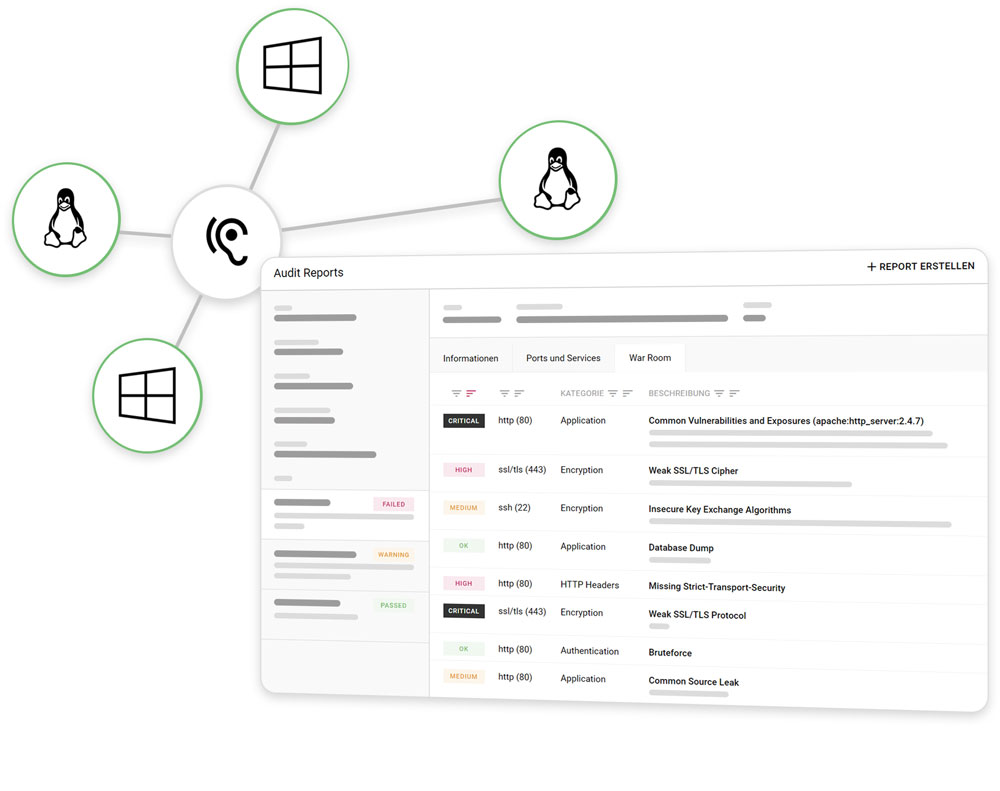 Arrange a demo appointment today and we will show you how quickly you can get a grip on your company's IT security.
Within 30 minutes you'll learn how Enginsight can help you monitor all your IT, identify vulnerabilities and simulate hacker attacks. We show you how you too can increase the security status of your IT within the shortest possible time and what is really important in everyday life to relieve your IT staff and still be up-to-date.
Enginsight Product Variations
In the cloud or in your own data center, Enginsight is always the right solution for your business.

Enginsight SaaS
Manage your data conveniently via our Enginsight SaaS platform in a dedicated area.

Enginsight On-Premise
Full data control! Run your own Enginsight instance as an on-premise solution in your data center.

Enginsight OEM/Whitelabel
Integrate the functions of the Enginsight platform into existing solutions or create your own innovative products.
FAQ - SHORT QUESTIONS, SHORT ANSWERS
Enginsight was developed according to the principle "Security by Design". The IT architecture behind Enginsight has been tested many times and offers you the highest security as SaaS and on-premises. Please feel free to contact us for exact details on the IT architecture of the platform.
You can use the platform for 14 days free of charge or arrange a direct demo appointment with us. Here you can get further information.
The entire platform is ready for use within minutes in both SaaS and on-premises versions. All analyses run automatically, so that you receive a well-founded security audit without configuration effort as well as constant live monitoring of your entire IT.
After the test phase, Enginsight can be used as a cloud solution for as little as 10 euros per year (Enginsight GO). All SaaS prices can be found here. For an on-premises calculation please contact our sales department. Here the prices are calculated individually according to your IT size.