"The main risk is no longer humans, but the lack of adequate human control" – Misha Glenny
More digitization means higher complexity and more attack vectors. Ensure that your IT is always up-to-date with the latest technology (right-to-right). We help you with this and automate your everyday IT life.
CREATE ALARM SCENARIOS AND CREATE AUTOMATISMS
In the Alarms module, all the information that Enginsight collects about the state of your IT systems is collected. Choose from a variety of scenarios when you want to be notified by Enginsight. Thanks to intelligent tag usage, you can switch the alarms to many assets at the same time.
Connect your alarms to the "AND" function and create your own workflows.
In the event of an alarm, you can trigger actions such as restart, blocking in case of network attacks and much more. You can define all actions yourself.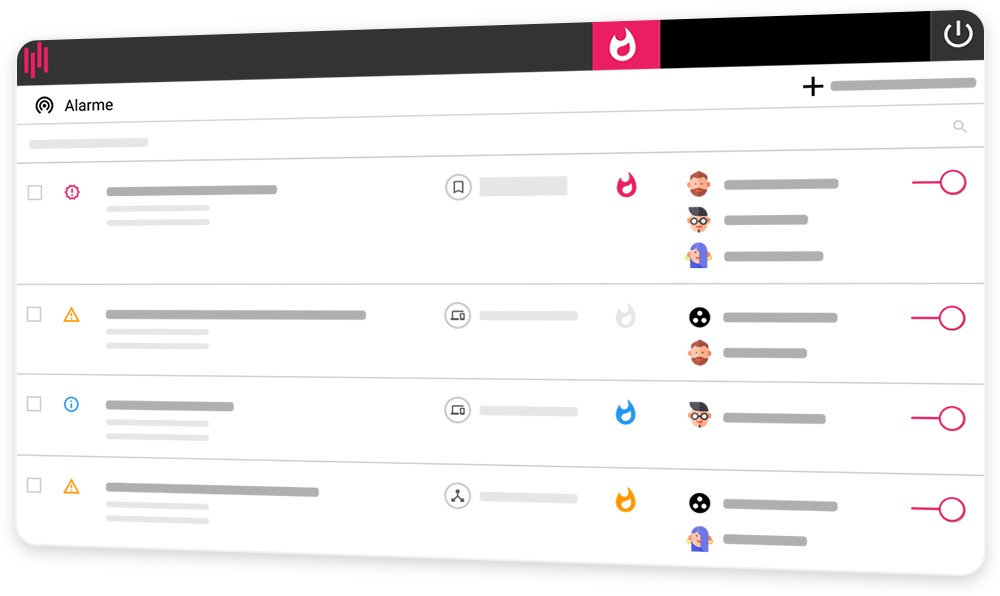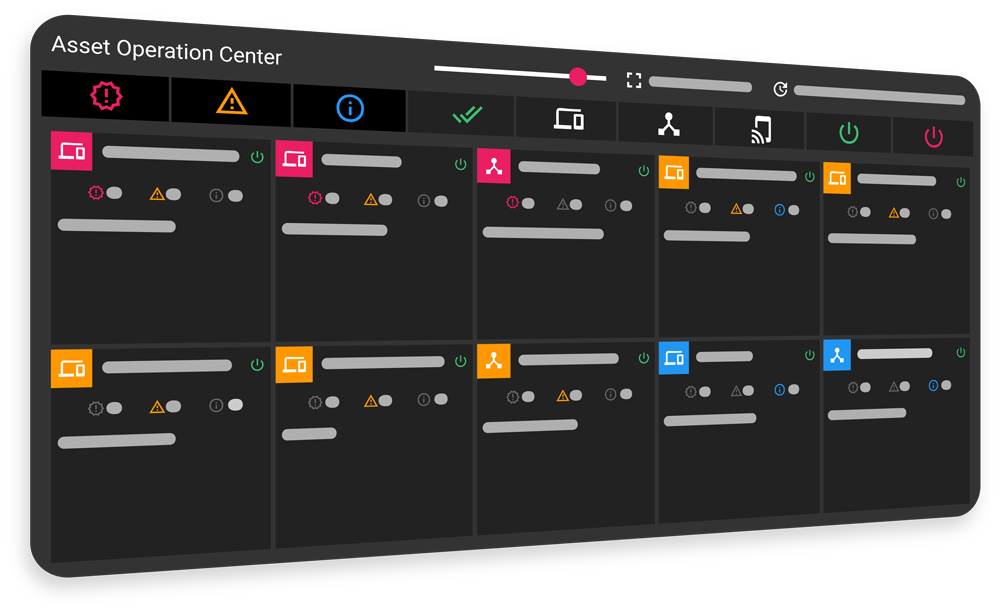 Security Operation Center (SOC)
KEEP TRACK OF YOUR ENTIRE IT
Enginsight's Security Operation Center provides you with a control center for managing your IT landscape. Get live data about the accessibility of your assets, triggered alarms, and identify critical assets at a glance.
SIMPLIFY YOUR EVERYDAY LIFE – LET ENGINSIGHT ACT
Create plug-ins directly from the Enginsight platform to manage your servers and clients conveniently and quickly. Plug-ins can be run on any number of IT assets with just a few clicks.
Link plug-ins to alarms to automatically trigger actions during alerting or define cronjobs for scheduled execution.
Furthermore, we offer templates to ensure a correct configuration of the SSL/TLS encryption on Windows servers or to set up the firewall configuration for SSH on Linux system automatically.
Custom plugins give you endless ways to automate the administration of your IT systems.
Autonomous response to system events
Use alarm-linked plugins to trigger actions autonomously during system events. The application possibilities are inexhaustible and simplify your everyday IT life.
Possible scenarios
Automate your security processes and ensure a secure IT environment. For this purpose, Enginsight offers you an extensive, yet easy-to-use function set. Further information can always be found in the documentation.
Use machine learning to detect anomaly in metrics instead of manually setting alarm limits. This saves you manual setup and results in fewer false-positive alarms in case of short-term power jumps or deviations from normal behavior.
Assign the Enginsight Agent to perform routine tasks for you on a regular basis. Simply set the time for the scheduled execution via cronjob. You can roll out the automatic executions to any number of servers and clients at the same time via tags.
With the Certificate Manager, you always have an overview of all the certificates you use. Enginsight aggregates all information from your endpoints for this purpose. See at a glance which domains are affected if there are problems with a certificate.
Schedule a demo appointment today and we'll show you how quickly you can get a grip on your company's IT security.
Within 30 minutes, you'll learn how Enginsight helps you monitor your entire IT, identify vulnerabilities, and simulate hacker attacks. In doing so, we show you how you too can increase the security status of your IT in the shortest possible time and what is really important in everyday life to relieve your IT staff and still be up-to-date.
FAQ - Short QUESTIONS, SHORT ANSWERS
Enginsight was developed according to the principle of "Security by Design". The IT architecture behind Enginsight has been reviewed several times and offers you as SaaS and On-Premises high security. You can ask us for detailed details about the IT architecture of the platform.
You can use the platform for 14 days free of charge or arrange a direct demo appointment with us. Click here for more information.
The entire platform is ready for use in a few minutes as both saaS and on-premises versions. All analyses are automated, giving you a sound security audit without any configuration effort, as well as continuous live monitoring of your entire IT.
After the test phase, Enginsight can be used as a cloud solution for as long as 10 euros per year (Enginsight GO). All SaaS prices can be found here. For an on-premises calculation, please contact our sales department. Here, the prices are calculated individually on the basis of your IT size.