Server monitoring for Windows and Linux
With the automatic capture of your assets, you can monitor your IT in no time without configuration. You can also use machine learning to reduce tedious rule creation.
With Enginsight you can monitor any metric that can be displayed over time.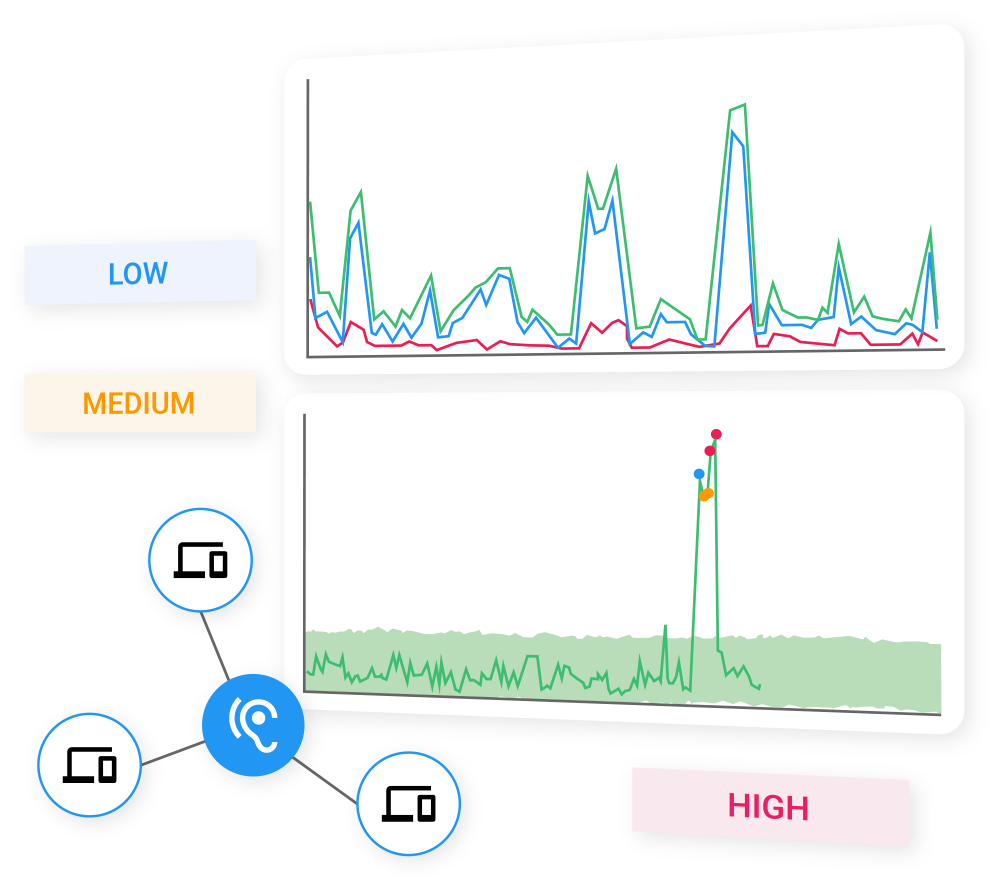 Server monitoring for medium-sized businesses
The daily view into monitoring is simply part of it. How about seeing all security-relevant data simultaneously without having to change tools?
Linux server monitoring or Windows server monitoring, anything is possible. In addition to the automatic security analyses, Enginsight provides you with professional IT monitoring, which monitors your devices in live mode. Keep track of your IT performance and detect anomalies as they occur. Perfectly and clearly tailored to the needs of medium-sized businesses – your needs.
Machine Learning Monitoring
Instead of manually setting anomaly thresholds, you can use the AI component of Enginsight. Thanks to machine learning, Enginsight automatically recognizes whether everything is running smoothly or problems occur.
This is especially helpful if you are not sure if all alarm scenarios are mapped. And quite honestly: they never really are.
Collect performance data from your Linux servers, Windows servers, Linux clients or Windows clients.
You can set the start and end time of the metrics manually. They can also be switched to live mode.
For each metric you get a Quick-Alarm button. This allows you to create an alarm for each metric with just a few clicks.
Individual Metrics (Custom Metrics)
Would you like to have even more data output in metrics? No problem. Use the possibility of Custom Metrics. With Enginsight you have a wide range of options at your disposal.
With the help of user-defined metrics, you can monitor any data of your host, which can be displayed over time. This can be data from a SQL database, backups, license metrics of a software, the number of currently logged in users, the duration of individual requests, sensor data, etc. Alarms can of course be created for all user-defined metrics, if desired also via Quick Alarm Button. You can also set the start and end time of the metrics manually.
With Enginsight you always have an overview of the software deployed and running on your servers and clients.
Here you will find an inventory of your software with the software name, version and source of the software. Such a list can help, for example, with software license management or with the creation of a procedure directory according to DSGVO.
Always have an overview of all running processes on your server or client. Manage autostarts, running services, outgoing and incoming connections. Furthermore, you have the possibility to define corresponding alarm scenarios and to combine them with automatic initial actions. For example, processes can be started or stopped automatically.
Arrange a demo appointment today and we will show you how quickly you can get a grip on your company's IT security.
Within 30 minutes you'll learn how Enginsight can help you monitor all your IT, identify vulnerabilities and simulate hacker attacks. We show you how you too can increase the security status of your IT within the shortest possible time and what is really important in everyday life to relieve your IT staff and still be up-to-date.
FAQ - SHORT QUESTIONS, SHORT ANSWERS
Enginsight was developed according to the principle "Security by Design". The IT architecture behind Enginsight has been tested many times and offers you the highest security as SaaS and on-premises. Please feel free to contact us for exact details on the IT architecture of the platform.
You can use the platform for 14 days free of charge or arrange a direct demo appointment with us. Here you can get further information.
The entire platform is ready for use within minutes in both SaaS and on-premises versions. All analyses run automatically, so that you receive a well-founded security audit without configuration effort as well as constant live monitoring of your entire IT.
After the test phase, Enginsight can be used as a cloud solution for as little as 10 euros per year (Enginsight GO). All SaaS prices can be found here. For an on-premises calculation please contact our sales department. Here the prices are calculated individually according to your IT size.